How to become a poker dealer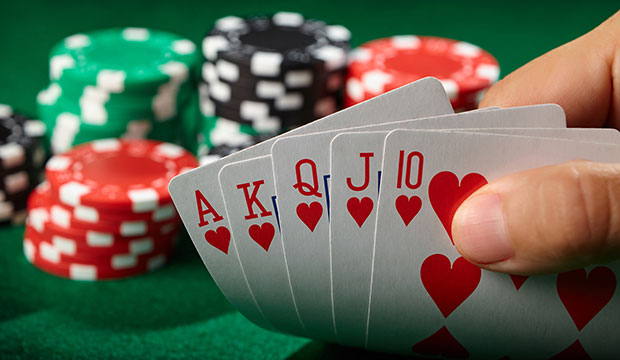 What are the duties of a poker dealer?
A professional poker dealer is a casino employee who is responsible for managing the deck of cards, bets, and a pot. The main purpose of to provide the players with a continuous and unfailing gaming process. Dealers have to reshuffle cards in a special way to make any scams and tricks less possible; for this, they have to be trained to shuffle a deck holding it in a manner that will prevent professional poker players from spotting the lowest card, which can allow them to make some predictions. A situation when a player is aware of at least one card's position is unacceptable in card gaming, especially in big tournaments, so dealing cards require certain skills. In addition, a dealer has to know the rules of card dealing: for instance, in Hold'em poker, there should be four reshufflings of cards before the start of the game.
Besides, there are many other peculiarities that a dealer has to know about; the rules of managing the game may vary depending on the poker variety, so a professional has to know all the details to make the gaming process fair and leave the players satisfied with their experience, no matter if they have gathered in a brick-and-mortar casino, or watching a dealer in a live stream in an online club. Online dealers, though, are not actually working at the poker rooms — their functions are fully powered by modern technologies, but the experience in poker dealing might become a good background for starting a career in blackjack, roulette, or any other live casino games dealer.
It is essential to keep the pace of play and understand when it is necessary to make it faster. Some players complain about the sluggish performance of a dealer, so it is essential to keep pace and control the bank, counting the chips accurately and quickly.
Additional skills required
Learning the rules of the game and even being a professional player will be certainly the key factor in the dealer's work, but there are some details that you have to be aware of when you decide on applying for such a position.
Dealers must have perfect manual dexterity: this can, of course, be developed, but if you are not sure that you are capable of shuffling cards quickly and correctly without turning the whole process into a disaster by flooring the whole deck on accident, think twice before you enter any training courses.
Basic maths skills will be also helpful: you have to be able to count fast. In addition, dealers have to be armed with excellent customer service skills, have a neat look, and possess preeminent stress resistance as hot-tempered players tend to treat the dealers in a very aggressive way, venting their anger on a croupier; some of them can even try to be physically violent so a poker dealer job requires having a high tolerance for stress and ability to react fast to abnormal situations that may arise during the game course.
Even if people behave correctly, a dealer still has to react immediately to their questions or inquiries; the service and treatment to players behind the table have a huge impact on the salary, which we will consider later in this article. What is more, poker dealers need to have physically strong and be ready to sit for quite a long period of time. Another requirement that might seem unexpected is having a twenty-twenty vision and be very attentive: this will help to monitor if all players behave in the right manner and play according to the rules. It is crucial to unfold any fraudulent schemes that some dishonest gamblers might have before it affects the game too much.
What shall be the background to apply for a poker dealer position?
A great thing is that you can start a poker dealer career from ground zero — a high school diploma will be enough to apply for a job after the training course. However, the job will be more attractive for you in case you are a poker enthusiast yourself, as the job is not as easy as it might seem to be. If you like poker and want to be a part of some major tournament or just be involved in this business, it will be less harsh to face some disadvantages of this position. They include tedious working shifts, the necessity to deal with many people who can be described as nothing but delusional, presence at a place that can be airless, filled with tobacco smoke, noisy, and sometimes too hot or too cold. However, poker lovers find such an atmosphere their own vine and fig tree, so if you are one of them, it might compensate for a lot of inconveniences poker dealers face in their work.
How can I enter the career?
The easiest way of becoming a poker dealer is to find the training course in your city; most of them immediately provide you with a job opportunity if your final tests are successful. However, a wannabe dealer has to be aware of the licensing requirements when they choose the place where they are going to study. The school has to be accredited by the corresponding organs according to all regulations of the jurisdiction where you are going to start your career in the world of poker.
The accredited school will be eligible to give you a certificate after you graduate, but after that, you will also need to confirm your expertise at a licensing organ of your local jurisdiction. Yes, a poker dealer, just like any online or onsite casino has to be licensed to have the right to provide their services in a legit way. However, the rules of getting a license might differ from country to country. For instance, if you want to become a dealer in Las Vegas, you will have to get a job offer before applying for a license. This might sound a bit weird, but your employment shows the licensing organ that you are going to apply your dealer's skills on practice regularly, and the licensing document will be given to a person who is really into the industry.
You will have to pay about 500 USD for the courses; a standard course takes from three to eight weeks. More expensive options (approximately 1 500 - 2 000 USD) have guaranteed jobs for successful graduates, so if you have a required budget and are determined to start working immediately skipping the step of going through multiple auditions, you should consider such classes at the first place. Some of them offer not only poker dealing which is quite a hard class that is sometimes given as advanced training, but also training of dealers of the other casino games: roulette, blackjack, and other card and table games. Many top casinos hire poker dealers only after they have experience of at least 6-12 months of dealing in the other casino games. If you have other skills but dealing the poker games, you will actually have even more job opportunities: for instance, you can work as a live dealer on the Internet casinos, which is more comfortable and safer, of course.
Before you choose the training course, note the program that is offered to students. The extended course that will last several weeks will include all poker types, so you will have to learn and remember a lot. You can opt for less demanding programs, that are passed in 90-100 hours, but such a traineeship will teach you how to deal with three or four poker types, which will not be enough to receive a job offer from the most popular casinos or invitation to deal on any world-class tournament like the World Series of Poker which is actually the peak of a career as a poker dealer.
A standard program of the training school of poker includes the following aspects:
learning the rules and basics of each poker game;
learning how to shuffle the cards correctly;
understanding the rules of dealing and treating the card deck;
counting skills: how to count the bank and make change;
table controlling;
pitch lessons.
In addition, poker schools add special programs to their curriculum — they teach you how to interact with players and provide them with good service; how to behave in emergency cases and do maintenance work. There also might be some tips about the job interview: how you should look like, what you will have to show on the audition and the other advice that might be helpful in future.
Getting the license
You will probably receive all the necessary information about licensing in the school, as the conditions and prices vary from country to country. The price of the license in Las Vegas, for instance, is 75 USD, and is given for five years; if you want to continue your career, you will have to prove your professional efficiency again when your grant is expired. The gambling commissions require the CV of the applicant, drugs test documentary evidence, education certificates, that include your poker school training as well as a high-school diploma. In addition, they might require some extra documents like the police clearance certificate: some gaming commissions do not approve applications of the dealers who were involved in some specific actions, for instance, financial frauds.
Job interview
Before you become a part of casino staff, you might probably have to go through dozens of interviews. Here is a tip for job seekers: try to choose high gambling seasons when casinos are so busy that they search for many new well-trained people and write off the lack of real experience. Sometimes there are even free courses launched by many poker clubs and casinos when the already existing dealers have too much work and the HR management has to hire so many new personnel that they are ready to provide the potential candidates with all necessary training.
When you come to the interview you have to look as if you are already standing behind the customers in a casino. It will be a smart idea to recognize what are the rules for the croupier's dress code in a place you are invited to the interview and try to look in accordance with it. Your appearance means much for dealing poker: your skills will not be enough in case you have a filthy rig, provocative tattoos, repellent scars on visible parts of your body. You are going to be the icon of the venue so your looks have to be aligned with this role. A major focus of inspecting your appearance will be made on hands: this is the main instrument of a dealer so it attracts all views of the people behind the poker table. It is better to do without a glaring nail design and demonstrate tidy hands with neat nails; girls can pile up translucent nail polish.
Your skills will be tested, of course, too. Most likely, the recruiters will ask you to do some mental arithmetic; the diagnostic of your memory is usually done with the help of some memory games: you have to, for example, recite the items that are located in the room with the eyes closed. You will also be asked to deal with a game where the casino management will be playing the role of visiting gamblers. Be ready for a stress interview: interviewers might represent the personage of a losing casino member who is used to vent his spleen on the dealers which is a very typical situation in poker clubs and casinos.
If your candidacy is enforced, you have to go through some final formalities, like proving your high-school degree and passing the drug test.
What are the salaries and working conditions?
As you now understand, the job is not soft at all. You will have to deal with tons of offense, damnations, and curses towards you; dealing with it requires absolute mental stability to not take it personally. It is obvious that you can not react to such behavior and squabble with the customers, whatever they are. Usually, dealers work in shifts, 48 on/48 off, or the other schedule which will include night shifts. A standard working day lasts 12 hours, with approximately one hour of break; almost all the time the dealer is assigned to a table, which can be physically and mentally exhausting.
So, is this job worth it in terms of rewards? Generally, a poker dealer is not considered a high-paid profession. An average salary of a cash dealer, who works as a permanent employee in a casino, may vary from 5 USD to 30 USD per hour. Dealers who perform at the tournaments can have higher rates of pay, but the main source of income is the tips, left by the players.
Usual tips for a dealer at the casino are 1-2 USD per hand. However, the winners can be generous enough to live more cash, and there is no actual limit. A good manner is to pay about 5 percent of the winning amount, but it still stays in the sole discretion of a player. Top casino dealers are dreaming of working in the final tables of the World Series of Poker as it is a well-known fact that you can take away a gratuity that equals a normal salary per year. Many players feel very grateful to a dealer who dealt out a lucky card, so having 1000-2000 USD of tips per night is more than real in a standard casino. Attractive girls earn more, according to statistics, as men willingly please them with tips for a good performance and for their appearance, too. Gamblers who behaved violently can also become very generous in the end and bring their apologies in cash.
Career opportunities
Is there any career ladder in a casino or the investment into the training will end up in working as a croupier forever, hoping for a hefty tip during each shift? Certainly, there are ways of how you can promote yourself in the poker profession. The first option is to become a manager of the club: this will include monitoring the tables and the dealers' work; this job is better paid and you interact with the casino members less. You can also become a manager of a poker room or a tournament director.
In addition, there is a chance for you to make money on playing poker, too. It is strictly prohibited to participate in a game for a croupier, but nobody will restrict you from entering a tournament as a player when you are not at work. Running around with poker, you will inevitably become more and more experienced as a player, so this job might become your training course before you enter some tournaments. Another option is to become a poker instructor: many ex-professional gamblers and dealers opened their own poker schools and now share their knowledge with the novices who value teachers with a great reputation in the gambling industry.