Is discounting bad for business growth?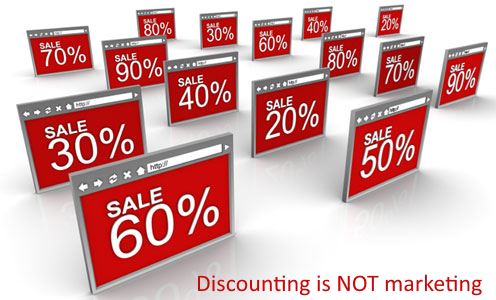 Selling stock below cost in "sales" after Christmas seems to be a routine business activity but is it sensible?
At the end of the year, when tax time arrives, a business finds out how well or how badly it operated throughout the previous year. Unless the enterprise is funded by shareholders with strong turnover, a loss could destroy the business. An example of a business with ample cash covering losses for years was Billabong. It was ruined by changes to the marketing plans when not so clever management folks decided to change from a designer and distributor model to a designer, distributor and discount retailer, cutting out the folks who used to sell huge amounts of their products to customers. That plan did not go well. They had lots of stockholder funds so the year after year losses could be covered for a while by reporting huge losses and emptying the bank account. In the end, the shell of Billabong was sold.
Small businesses cannot do that and survive, so they need to be conservative and find other ways to grow their business.
Almost every retail business has a sale at some time when stock is sold at prices way below what is needed to make a profit after expenses. It is tempting to join in just to get the cash flow boost but what does it achieve?
Customers who buy at online or bricks and mortar business sales, statistically never return to pay retail. They hit and run. So, the argument that having a sale is good for business may not be correct. Almost every business discounts old stock, returns, end of line products and goods supplied to them at low prices by manufacturers. That type of discounting is a normal part of retailing. What is not normal, is selling core stock at low prices continuously. It is not part of a business plan that would be used to impress a bank manager!
The idea of having a "sale" is to get new customers through the door. So discounting is considered marketing. It is a cycle to destruction similar to a spiral dive for an aircraft. Bills can't be paid, staff are laid off and ironically, people who would have paid full price, get cheap stock.
Business operators could spend the money that they throw away as discounts on real marketing. They could spend some money on a new website with a shopping cart to join the essential mobile retailing trend. They could run some ads in the local newspaper or they could hire a small business publicist.
A small business publicity expert is often a marketing graduate or a journalist who knows how and where to place advertising material with newspaper writers, editors and magazine producers who are always on the hunt for retailing article ( advertorial ) ideas.
Media outlets are always on the hunt for news. A new product, a new person appointed by a business, a new service or some business event like an Expo is often just what they need. If a business that usually has a sale when things are quiet, paid for some media placement and co-operated with journalists, they could get valuable publicity organically at little cost. They can then sell to the new customers at full price and be able to meet profit forecasts.
A publicist knows what media outlets like magazines and websites, accept paid content marketing or native content posts. Publicists write the copy complete with plugs for their client's business and deliver it to a magazine or website where it goes online in the form of news. The publicist negotiates a fee that is paid to the media outlet to run the promotion as news.
An example of marketing skill versus sales madness is Apple. They market their products endlessly, broadly and skillfully so that people are keen to trot off to an Apple store and pay full price for any Apple product. Apple is the best example of the power of marketing. Journalism can sell and Apple use journalists to sell their products.
Steve Jobs was famous for launching products through the media at staged events where he would do the sales pitch on stage in front of a giant screen. The real selling was done with media kits and samples handed to writers at the events.
Publicity is often better than discounting when it comes to getting customers through the door AND building a business. Apple sells on aura and prestige and it is now one of the largest companies in the World. There is a lesson there.
Cheap Chinese android phones might even be better than an iPhone in terms of performance but "who cares". That is the power of marketing to an audience with cash to pay full price!. It applies equally to small and medium businesses that want to survive.
The author
Greg Rogers is a journalist and article content marketer. He is the Manager of Rogers Digital and is a business news editor at Businesses.com.au and NewsPronto.com
Email - contact@rogersdigital.com