Going Backpacking For The First Time? Read this!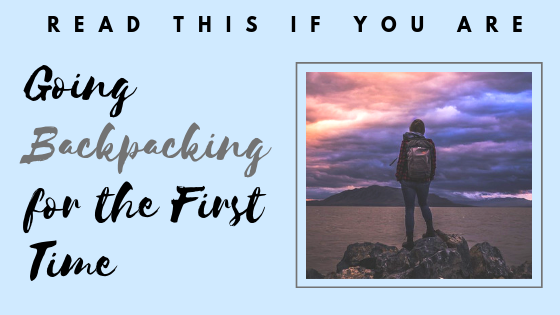 In the beginning, backpacking was just something students did, in order to save money or travel on a very low budget. This led to the emergence of backpacker's hotels and hostels, along with a lot of other businesses that stemmed out of this particular travel activity.

But it's not the same 'student trend' anymore. Backpacking isn't just for college or Uni students anymore! A lot of older adults are now trying out this new way of travel as solo trips continue to get more popular. Since sharing costs for a trip isn't an option on solo trips, most people look at these backpacking options to make their travel more cost-effective.
If you are thinking of travelling solo this summer in Australia or even visit a different country, you could try backpacking your way in! But why? Our question is WHY NOT?
A few tips for first-time backpackers who might want to figure out how to go about this new found adventure in the section below-
It's a Wonderful World
Of course! The whole world is beautiful, and while you plan your backpacking trips, you might want to go literally everywhere. Although living in Sydney, it would be a little difficult for you to go backpacking across Europe in 10 days. Hence, you need to make informed decisions regarding the location you want to visit.
A checklist for you to narrow down on the locations you might want to visit:
How far is it?

How many hours will it take you to get there in the cheapest and fastest way?

What are the modes of transport available for this location?

Is the location safe for travel? (Making sure the place hasn't been flooded recently, etc.)

Does the location accept tourists or travelers? (Eg. the North Sentinel Island inhabitants shoot arrows at anyone who tries to get close to their island)

What are the legalities of travelling to this location?

How expensive is it to travel in this location for your set number of days - compare it with your budget

Get Ready for Your New Roommates!
If you're backpacking, the first thing you worry about is "Where to go". Since we've already covered that, let's understand the living arrangements. Even though it's a very smart idea to plan your trip in a way that you can sleep on your train, or your sleeper bus, or even waiting rooms at airports, we recommend you to be mentally prepared to share your living space for a while.

If you need to stay at a hostel, you will need to share a room, and your bath space.

After you have prepared for this mentally, it's time for you to prepare for it with bookings, or research.

Luggage Will be a Pain in Your Back
You're always suggested to pack light unless you're packing for a wedding. Luggage can be weighing you down if you're carrying too many things. Firstly, try to put everything in just ONE backpack. Try to take everything that you need, but only if it isn't available at a hostel or a backpackers hotel - like a blowdryer. You might need it, but carrying it isn't necessary since all hotels or hostels have them (generally). Having two or three suitcases will only slow you down, and you will need space to keep these bags which you won't have - no hotel room, remember?
You Are What You Eat
If possible, try to find a hostel or an accommodation space that allows you to cook, or has a kitchen. At the least, a microwave or an oven should definitely be an option.

If you're travelling to Australia, you can be assured that a supermarket like Coles or 'Woolies' (Woolworths) will be enough for you to get great food supplies that are almost ready to eat, and are healthy.

But if you're travelling elsewhere, you might want to get some basic snacks that are long-lasting. This means that your bag of snacks shouldn't smell like a trash bag by the end of the second day of your trip. You can alternatively get used to eating totally fresh fruits and vegetables, because they're very healthy, and are usually cheaper than processed foods. Try locating a few local markets selling fresh produce, you will usually get food for a good price, and it will help you get a more 'local' experience at your backpacking trip.

Go Safe or Go Home
In case the paragraph headline isn't clear, what mean is that you need to keep your money safe. Read up on the cash laws of the country you're visiting. Do they have a lot of ATMs everywhere, or do they all accept cards, or do you need to have cash on you all the time?

The thing about carrying cash is, you need to keep it safe. Rule 1 says - Never keep all your money in the same place. In case a small wallet gets lost, you shouldn't be losing all your money in one go! Keep your money in different places in your luggage, and if possible, closest to you. This could either mean a money bag, or a hidden pocket in your pants.

And to avoid getting totally robbed at any point in time, try to do more transactions on your card. It's an easy way to keep track of your expenses as well as minimise buying anything unnecessary. But make sure the location you've decided to travel to accepts cards, and more importantly, accepts your card.
The Road Not Taken
A lot of people are of the understanding that for getting around the city, all they need is a travel smart card. But is it?

Let's consider the destination doesn't have any public transport at all. What's the next thing you do - definitely not Uber.
A safer idea is to hire or rent a car that you feel could be part of your budget. You only must pay for the miles you travel, and the fuel is generally refunded by the renting company (in most cases). A lot of people sell their second hand cars to companies such as Sydney car buyer or https://a1expresscarremoval.com.au/location/cash-for-cars-adelaide/ and you can even buy an extremely cheap car and sell it to a car removal company that offers cash for car service, at the end of your trip. This is a good option only when you're with a small group of people, and have a valid international driver's license in case of travel abroad, or a driver's license for your country of travel. You might have to check for the traffic rules and regulations of the country you're travelling to as well. This is a more feasible option if you are planning to travel in your own country - the car acts as your sleep space, your luggage space, your travel mode, and sometimes your kitchen too.


There are a million more tips that any backpacker would give you for your first time, but there are some things that you might want to learn through experience.
Good luck and happy backpacking!